adsense
The Great Morel is all about sharing information on morels and this little post focuses on the positive health benefits of the morel mushroom. In the FAQ section, you can find the nutrient value of the morel mushroom, and yet it is often difficult to find a great deal of validated information. The Great Morel discovered a great resource which will help us uncover and understand the health benefits and nutritional value of the morel.
Oliver Carlin from CurativeMushrooms.com has compiled a great article on the 4 Super Health Benefits of Morel Mushrooms, and has been kind enough to allow The Great Morel to share this information. Oliver began researching different ways of improving his health back in 2011. That led him to discovering the amazing health benefits that mushrooms have on the body. His goal (which The Great Morel shares) is to share information about hunting, growing and cooking mushrooms that taste amazing with as many people as possible.
…morels contain lots of antioxidants that are good in protecting your body from free radicals…
A mushroom's job is to survive in conditions where there are a lot of bacteria and they are amazing at cleaning these substances from the earth and its hosts. This is one of the main reasons that they possess powerful antibacterial benefits and in general all mushrooms are high in Beta-D-Glucans and Polysaccharides that have been shown to boost our immune system, have tumor inhibiting effects as well as many other benefits.

Now let's talk about some health benefits specific to the morel. It is reported by some to be low in fat and high in fiber, while containing several types of vitamins, however, as we discover there may be more hidden benefits.
Oliver states that the morel is a great source of antioxidants and he goes on to say…
"…morels contain lots of antioxidants that are good in protecting your body from free radicals. These free radicals are often the cause of heart diseases, Parkinson's disease, Type 1, and Type 2 Diabetes. The antioxidants in Morels help in removing harmful molecules in your body called reactive oxygen species."
Oliver also highlights several other facts about morels where it is believed to compliment your health, with the heart being one of the benefactors. The morel contains high amounts of potassium, vitamins and copper which all contribute to a healthy heart. Some of these benefactors contribute to help protect the body and the morel is a wonderful source of Vitamin D.
"Morels are known to contain one of the highest amounts of Vitamin D among all edible mushrooms. You can get 34% of your daily required levels of Vitamin D from 100 grams, or a little less than a cup of Morel mushrooms- specifically Vitamin D-2."
---
Another interesting point Oliver's article brings to our attention is the benefits that morels have been shown to have for the liver. The liver is responsible for removing all the toxins in the body and plays a crucial role in our health. This 'day-in-age' our livers are taxed more than ever by all the chemicals in the food and water.
"Carbon Tetrachloride (CCl4) is an inorganic compound that was found to be causing issues with our kidneys and central nervous system. Various studies have shown that CCL4 with ethanol can damage one's liver. However, extract of morel mycelium was found to be enough to provide protection against liver damage from CCL4."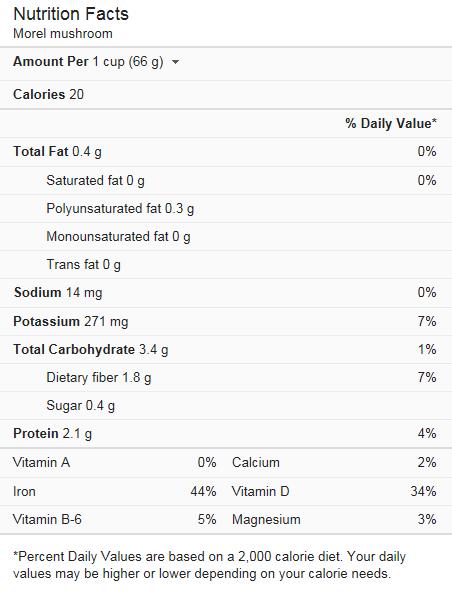 The cool thing is new studies are being conducted all the time so who knows how many other health benefits it may have that we don't even know about yet. For example, did you know that if you inject a mushroom with a bacterium it will sweat out a metabolite that can kill that bacteria? That's essentially a personalized antibiotic production system personalized for you.
So, while morel hunters everywhere believe the morel is all about taste, keep in mind morels not only taste incredible, but there are positive health benefits, and nutritional value the morel brings to our overall good health. When you are out getting exercise while searching for the ever-elusive great morel, or preparing a recipe in the kitchen, keep in mind the nutritional rewards too.
The Great Morel recommends you check out Oliver's website Curative Mushrooms to learn more about the amazing health benefits that mushrooms are proven to have, along with some other great posts on morels and other edible mushrooms.
---
The Great Morel has to post the standard FDA Disclaimer…The statements made regarding the morel have not been evaluated by the Food and Drug Administration. The efficacy of these products has not been confirmed by FDA-approved research. The Great Morel is not making claims intended to diagnose, treat, cure or prevent any disease. All information presented here is not meant as a substitute for or alternative to information from healthcare practitioners. Please consult your healthcare professional about potential interactions or other possible complications before consuming the morel. The Federal Food, Drug and Cosmetic Act requires this notice.